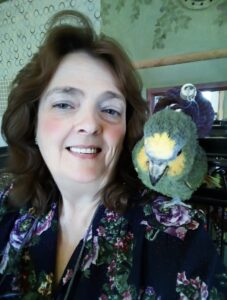 Kim Malonie: Natural born Psychic Medium, Clairvoyant & Animal Communicator of over 30 years, I am also a world renowned Animal Whisperer. I have been inudated by requests therefore I am once again offering personal Psychic readings. My focus for many decades has also been giving a voice to the Animal Kingdom.
Back by popular demand! To once again extend my Clairvoyance, Clairsentience and Clairaudience to people.
It is with great joy that I have once again resumed personal readings with the influx of energies to the planet. There has also been heightened messages from the Animal Kingdom and Gaia to people. My unique gifts of connecting with people and animals offer a broad-spectrum and great depth of messages to come through for the reception of my readings.
TESTIMONIALS:
Kim has made such a difference and a powerful impact on my life because of her unique abilities to fill in the blanks, vital pieces of a puzzle anytime I'm seeking greater or more information on a topic or situation regarding people, or animals.  Kim has the uncanny ability to be a pure conduit of important  details. I'm forever grateful for the unique gifts that she shares!
Carl A. Los Angeles
I have been receiving personal readings from Kim for many years now. She has the ability to go very deep into situations to uncover the pertinent meanings. Because of her unique gifts she has the ability to reveal the intentions and circumstances including other people related to a question or inquiry. As a pure channel where applicable past lives also come through, she is truly amazing!
Reba M. Hollywood CA
I have had several readings with Kim over the years and I find her to be spot on. She's always cheerful, kind, compassionate and uplifting and I find that helps me.
Lynn B. British Columbia
APPOINTMENTS:
Book your appointment today to gain greater insights on your most pressing questions, I look forward to hearing from you soon!
My fee for a reading is $99. for 30-60 minutes. Once your payment has cleared I will confirm your consultation. I accept Visa, MasterCard, PayPal, E-transfers. You can email me your questions, include if possible the most recent picture of yourself…You are a beautiful soul! Feel free to be in depth with your questions as the more open you are, the better your reading will flow.
Contact: 905-269-1957