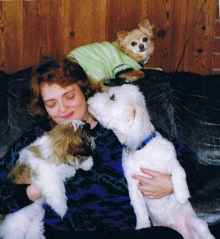 Helping ALL animals with physical, emotional and behavior issues
"WHAT IS YOUR PET TRYING TO TELL YOU?"
Kim is internationally acclaimed, and works with Radio and Television audiences.
Kim Malonie listens to ALL animals. Ever since she was a child Kim was aware of their thoughts and shares a deep understanding of all animals.
Over 30 years experience
Using this ability to assess specific needs, and different requirements. Then creating open communication, from animal to care giver.
She has consulted thousands of animals worldwide including; tigers, elephants, whales, dolphins, llamas, birds, reptiles, exotics, horses, domestic/wild breeds, cats, dogs…
Promoting healthy mental and emotional lifestyle dealing with allergies, arthritis, aggression, phobias, fear, learning disabilities, to name a few.
Kim offers long distance and local consultations to ALL animals helping them resolve their physical, behaviour and emotional issues.
I am NOT affiliated in anyway with the girl pictured under "The Animal Whisperer" (47 sec – October 2009) on youtube.
A Healthy Pet is a Happy Pet.