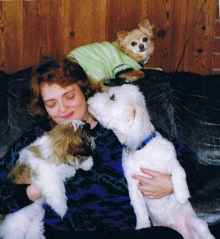 KIM MALONIE HELPS ALL ANIMALS WITH PHYSICAL, EMOTIONAL AND BEHAVIOR ISSUES
"WHAT IS YOUR PET TRYING TO TELL YOU?"
Kim is internationally acclaimed, and works with Radio and Television audiences.
NATURAL BORN ANIMAL COMMUNICATOR
Kim Malonie is a natural born animal communicator of over 40 years.
Using her ability to assess specific needs, and different requirements. Then creating open communication, from animal to care giver.
She has consulted thousands of animals worldwide including; cats, dogs, horses, tigers, elephants, chimpanzees, whales, dolphins, llamas, birds, reptiles, exotics, domestic/wild breeds.
She is a PUBLISHED AUTHOR of her new book "THE SECRET WISDOM OF ANIMALS"
Kim promotes a healthy mental and emotional lifestyle dealing with allergies, arthritis, aggression, phobias, fear, learning disabilities, just to name a few.
Kim offers long distance and local consultations.